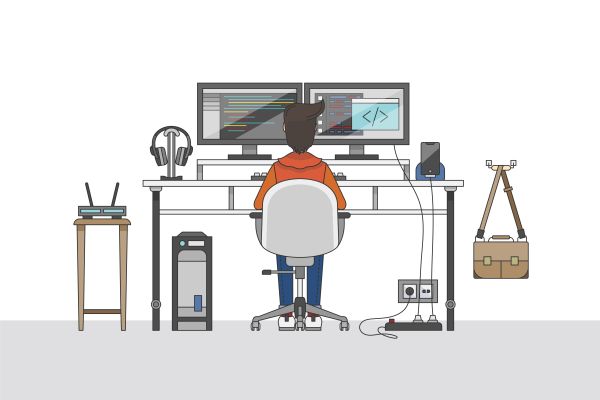 Top 7 Upcoming Computer Setup For Video Editing - 2023
If you're in the market for a new computer to help with your video editing, you may be wondering what kind of setup you should get. While the requirements for video editing vary depending on the software you use and the quality you're aiming for, there are some general guidelines you can follow. In this post, we'll take a look at seven of the best video editing PCs that are set to be a hit in the coming year. This way, you can make an informed decision about which one is right for you.
If you're looking for a top video editing computer, the Sigma Class 1 is a great option. It has an Intel i3 12100F processor and 16 GB of expandable RAM. It is a perfect setup if you need to use it for basic video editing tasks. You also get 250GB NVMe SSD WD Blue SN570 in this model, and with a 1 TB hard drive, you get access to ample space to store all those amazing video editing projects. You can buy this video editing computer setup for under INR 50,000.
When it comes to video editing, you need a dedicated setup built for the same purpose. That is why Sigma Class 2 (Ryzen 3 3600 + GTX 1650) should be one of your top choices when looking for the best video editing computer setups. It comes with a commendable AMD Ryzen 3 3600, 16 GB RAM, and 1 TB of storage. It allows you to edit videos up to 1080p resolution, which is a significant aspect to consider. This is a very good PC if you are looking for a setup under INR 70,000.
The Sigma Class 3 (i5 12400F + RTX 3060) is a powerful workstation that's perfect for video editing. It's powered by Intel i5 12400F. In addition, it features up to 16 GB of RAM and 1 TB of storage. Plus, it comes with Windows 10 Pro OEM compatibility, so you can easily cover all your peripherals. We have also added a Volted Cool 290 CPU Air Cooler to help support your video editing tasks. Additionally, you get to edit videos for up to 2K QHD and all this at a price of under INR 90,000.
As a video editor, you need a pre-build video editing desktop that can handle demanding software and large files. You also need a computer that's reliable and won't overheat during long editing sessions. The Sigma Class 4 (Ryzen 5 7600X + RTX 3070) is a great option for video editors. It has an AMD Ryzen 5 7600X processor and 500GB SSD, and 1TB of storage, which will let you edit 4K video without any lag or stuttering. All in all, the Sigma Class 4 (Ryzen 5 7600X + RTX 3070) is a powerful and reliable computer that is perfect for video editing. This PC setup can be yours at less than INR 1,50,000.
The Sigma Class 4 (i5 12600K + RTX 3070) is a great computer for video editing. It comes with a robust Intel i5 12600K processor that supports all your video editing tasks. Plus, it comes with an RTX 3070 graphics card, 500GB SSD, and 1TB HDD. You also get SilverStone PF240 ARGB, Deepcool CG560 ARGB, and Windows 10 Pro OEM in this setup. All of these make it aspirational for every video editor looking for a computer setup under INR 1,35,000.
The Sigma Class 6 (Ryzen 7 5800X + RTX 3070Ti) is the best video editing PC designed for those who are looking to produce high-quality videos. It has a powerful processor and storage that can handle demanding video editing software. It is powered by an AMD Ryzen 7 5800X and has 32GB RAM. This makes it a very powerful computer that can handle any type of video editing you throw at it. It is priced below INR 1,60,000.
The Sigma Class 6 (i7 11700K + RTX 3070Ti) is a great choice for those looking for a powerful and top video editing computer to do some serious editing work. It's got an Intel i7 11700K processor, 32 GB of RAM, and 1TB SSD + 1TB HDD storage. It also comes with an MSI 240mm Coreliquid AIO and Windows 10 Pro OEM. This is an amazing PC if you want something under the budget of INR 1,60,000.
Why do you need a compatible PC for video editing?
There are a few reasons why you need a compatible PC for video editing:
Video editing is a resource-intensive process. This means that it requires a lot of processing power and memory in order to work properly. If your PC isn't powerful enough, then your video editing software will struggle to run properly.
Video editing often requires the use of specialized hardware, such as graphics cards and more. These types of hardware can be very expensive, so it's important to make sure that your best video editing PC is compatible with them before you purchase them.
Many video editing software packages are only compatible with certain types of PCs.
So if you're looking to use a specific piece of software, then you'll need to make sure that your PC is compatible with it.
Where to buy the best pre-built and custom PC for video editing?
Volted PC is the best place to buy a pre-built PC for video editing. We offer a wide range of PCs specifically designed for video editing. We also have a team of experts who can help you choose the right PC for your needs. In addition, our prices are very competitive. Moreover, we offer a talented team to assist you with any problems you might face with the products and services. Not just that, we also have a wide range of options to choose from when it comes to building a custom PC for video editing as per your choice of configurations.
Conclusion
As we move into the future, it's exciting to think about all of the new and innovative computer setups that will be available for video editing. We hope you enjoyed our list of the top 7 upcoming pre-build video editing desktops in 2023. As you can see, there are some incredible options on the horizon that will make your video editing projects easier and more enjoyable than ever before. So, if you're looking to upgrade your setup in the near future, be sure to keep these computers in mind. We're sure you won't be disappointed!
Posted
4 months ago
---
by Hunny
Comments
No comments yet! Why don't you be the first?