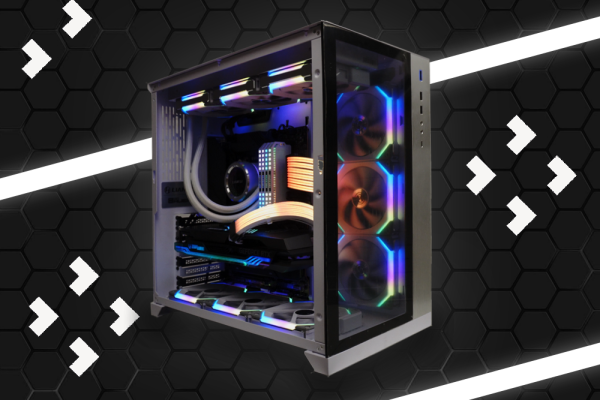 Purchasing a Gaming PC for the First Time? This Guide Can Help.
Are you in search of a gaming PC in India? Are you confused about the options that you should buy a custom PC or build on your own? Gaming consoles are becoming one of the most popular gaming platforms, still, the fun to play on a personal computer has its feel and fun. But, not everyone has a super gaming computer for the next-level playing experience. This detailed guide about the gaming computer covers all such queries and returns you with answers.
Things To Know Before Getting Your Gaming PC
Here are some of the top-notch tips to look for while purchasing a new gaming computer.
1. Build PC vs. Purchase a Pre-Customized
The very first thing to cover is to decide if you're in the hope to build your PC or a pre-designed one will be a better choice. Creating a custom build PC from scratch with zero can be highly intimidating considering you have no prior experience. However, there are certain guides and tutorials to make the work easier for you.
The major benefit of building your PC is that you get the flexibility of configuration as per the game's requirement. It will fill you up with the confidence to upgrade hardware or diagnose hardware issues. The drawback is it will require a lot of time and effort in arranging and ensuring that everything is running fine. Components and parts compatibility is a big problem faced by a lot of gaming people.
Pre-customized Gaming PC comes in handy to get started with your gaming experience. They are even cheaper than customizing the whole thing on your own. Thus, the first and foremost thing is to make the right choice between the two options.
2. Important Gaming Components
Make sure to check the components like processor, graphics card, RAM, etc. before getting ahead with the computer purchase. The processor is considered to be the brain of a gaming PC and hence must be valued in all cases. In case, you're in hopes to play heavy gaming, be sure about the processor details and configurations too.
On the contrary, the graphics card is responsible for on-screen visuals on the pre-build computer. Thus, it holds a prominent value for visually detailing games on the PC. Some games need a mix of both processing and graphic potential, so always go for the best choices you can afford. For the processor, the choice could be Intel or AMD, out of which, the latter option is one of the most affordable options.
3. Hardware Selection for Gaming PC
Before settling with the hardware requirements, consider your gameplay complexity and potential too. While some games are too demanding, others can run on relatively low-class hardware too like budget hardware. However, if you have plans to run the latest heavy games on PC India, the price is likely to be increased.
Two major resource requirements are likely to narrow down at game resolution and graphics settings. While the resolution could be minimal to 720p, some even prefer to go with the high 4K experience. As you keep increasing the resolution requirements, more powerful hardware capability will be expected from the computer. In addition, there is hardly anyone who likes to play on low graphic settings, and high graphic settings will also need powerful hardware.
The gaming PC India can also be useful in various other tasks like video editing, photo editing, live streaming, and various others. Having the high-end hardware in the custom-designed personal computer will assist in those tasks as well. That's what makes the hardware selection step a bit crucial in the entire process of designing a gaming laptop.
Video editing needs lots of memory and space ranging from 8GB RAM to 32GB RAM. For live streamers, the focus should be on getting a better processor rather than searching for the graphics card. Most people will need to carry out general day-to-day tasks like browsing, emails, videos, etc. Since they are quite less demanding in terms of software and hardware components, gaming PCs are potent enough to handle these tasks.
4. Check and learn about Component Durability
It is a usual thing that we analyze how good a component is before purchasing the custom PC. It can be a bit tricky to choose the right processor or graphics card for first-time buyers. Check the comparison of the components from popular manufacturers. For hardware reliability standards, look out for some benchmarks and performance overviews regarding multiple games on a pre-built computer.
5. Plan the future
It is one of the final facts to check while getting your gaming PC in India. Although, plenty of components manufacturers keep claiming the custom-designed PC to be future-proof. However, there is hardly a way to predict the future as you are unaware of what requirements might come over. Still, you can take some measures to enjoy the full usage of a custom-built PC before feeling the need to replace it.
Future upgrades of the gaming computer are also a major concern to look into. Let's take an instance where you've managed to get a very good motherboard, and graphics card, but not the RAM. So, that could be upgraded later based on the requirement. However, the same doesn't apply to the processor and you would have to replace the entire system. So, the person willing to purchase a high-end gaming computer should be aware of such basic factors.
Volted PC: End Your Gaming PC Search With Us
Volted PC is a one-stop destination for all sorts of pre-customized gaming PC India and components/guide to building on your own. They bring diverse services to deal with the growing demand for customization or assembled systems. Our team and experts have well versed in technical and usability factors when it comes to offering flawless custom build PCs.
So, without further ado, start browsing our website and find a suitable service catering to your requirements. Our chat support is also available to help with PC customization or purchase query.
Posted
1 year ago
---
by Hunny
Comments
No comments yet! Why don't you be the first?