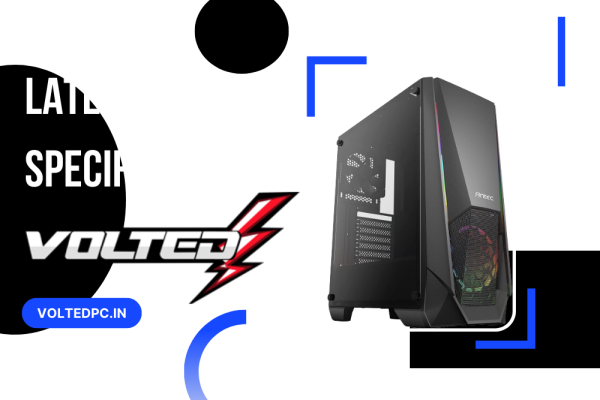 Latest PC Specification, Features, Review - Everything You need to Know
Finding the best gaming PC in India is hard, with many options. While some have the best features and performance standards, others can have endless customization possibilities.
Finding the exclusive PC for trading and gaming with all features and expectations is no less than a bit of luck. You can even go for building your PC, but selecting the pre-designed gaming PC is an easy deal.
Here are some worthy gaming PC options with the best specifications, features, and benefits.
For a serious gaming PC, you need the best hardware. The Intel i5 10400 gives us enough power to play any game available. And with 16GB of 3200MHz memory, we can say that this is the perfect gaming PC.
Add in our Dual-Fan DeepCool GamerStorm Macube 110 (Black / White), and you have yourself one beast of a gaming machine!
Get the AMD Ryzen 5 5600X and impressive performance across various applications. This CPU is an excellent choice for those who want to work on multiple applications simultaneously, such as streaming while gaming, or gaming while working on your business plan.
It also features 8 physical cores and 16 threads (Hyper-Threading) giving you plenty of flexibility to handle whatever tasks you have in mind. In addition, this processor comes ready to go out of the box with support for DDR3 RAM modules with up to 3200MHz of memory bandwidth so you're set right out of the box!
The Nvidia System Configuration 2 is a premium gaming PC with striking matte black chassis and customizable RGB effects. Powered by the latest AMD Ryzen 7 5800X CPU and 16GB DDR4 RAM, it can handle just about any gaming, video editing or content creation needs.
The powerful Gigabyte RTX 2080 Gaming OC is cooled by the Deepcool Castle 240 EX A-RGB AIO. 500GB of storage is complimented by a M.2 NVMe drive for super fast loading times, while a 2TB HDD provides ample space for all your favorite games and files.
The Intel i5 10400 features 4 cores, 8 threads and 3.0GHz base clock speed. The processor has unlocked multiplier for overclocking, making it suitable for both office use and gaming.
In addition to the multi-core selection, you can also pick a cheaper quad-core processor with these processors. The motherboard supports Intel's latest awesome technology in its chipset like Turbo Boost Max 3.0, Speed Shift 2.0 and Smart Response Technology.
An ideal setup for trading and gaming, this Intel i5 10400 is upgraded by ASUS P5K to a full 1920x1080.
The premium memory module (D30/G.skill Ripjaws X/T) ensures that the whole system performs at its best. Although some slower hard drives might slow down your system and increase startup time, this setup ensures you get the most out of your machine by using the Thermaltake J24 and Kingston 240GB solid-state drive.
The Omega Class 1 is the perfect PC for most users, packed with all the power you need to run Windows 10 Pro or Linux. We have chosen a brand-name motherboard, AMD 3000G APU and a large 120GB SSD for fast boot times and snappy performance. This system also has 8GB of DDR4 3200mhz memory from G.Skill or Corsair Vengeance LPX RAM.
This PC is built with the latest Intel i5 11400F, 16GB DDR4 3200MHz Gaming Memory, MSI 240mm Coreliquid CPU Cooler, 256GB M.2 NVMe Adata XPG Gammix S5 SSD, and 1TB WD Blue or Seagate Barracuda 7200RPM HDD/SSD.
The motherboard comes with a lot of features such as MSI Thermal Armor, Dual M.2 Slot and Intel Optane Memory compatibility that warrants an easy upgrade path towards PCIe NVMe Gammix S11 and S15 drives for those that want to squeeze in more performance for gaming or productivity.
Final Words
These were some of the top choices of pre-designed gaming PC India. The list involves some of the best manufacturer and system integrators offering top-notch value combinations, reliability, customer feedback, performance, and design. Hopefully, you can find some of the best laptops per various budgets and requirements.
Are you looking for a customized PC with a world-class gaming experience? Volted PC is a one-stop destination for gaming PC setup and customization. We have an exclusive range of best-in-class gaming PCs that you dream of. Browse our website or connect with us on chat to explore and select the best gaming PC.

Posted
11 months ago
---
by Hunny
Comments
No comments yet! Why don't you be the first?