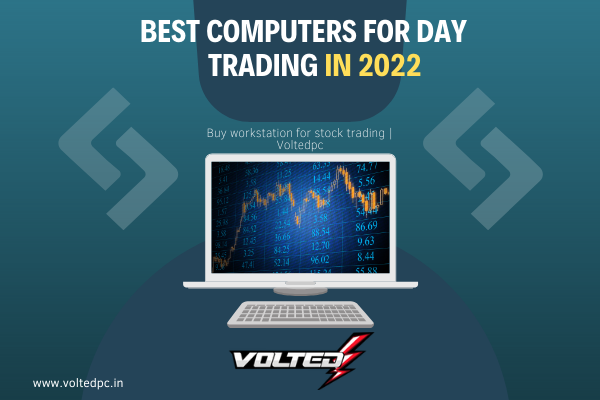 Best Computers for Day Trading in 2022
A stock trading computer is a sophisticated, lightning-fast computer-created exclusively for traders. Day trading computers must be both powerful and dependable. This is crucial to consider if you want to succeed in the trading industry. Even while it appears that trading on a smartphone or tablet is doable, more professional day traders prefer fast PCs with several monitors.
It's best to start small (or use what you have) and work your way up. You can, for example, upgrade some components on your computer rather than purchasing a new one.
To use all of the features of top-of-the-line trading software, you'll usually need a more capable computer. Let's see some of your options for evaluating trader-efficient computer models.
What to Look for best stock trading computer in India:
The speed at which you want to execute trades and the sorts of applications you may run is determined by the characteristics of your computer. Let's look at some of the most significant factors to consider before purchasing.
Processor Speed:
Any stock trading computer's CPU processor is the most critical component. The functionalities of the trading platform will be seamless and rapid. Experts recommend Intel Core i5 and i7 CPUs. It features four or more cores, allowing it to operate many trading programs simultaneously. You'll want to look for a CPU with at least 4 to 6 cores (like the i5 Intel Processor). A quad-core with a clock speed of 2.8 GHz is required for day trading on financial markets. In addition, to trade in peace, a low-sounding fan and high-performance cooler are required.
RAM:
RAM, or Random-Access Memory, is essential for efficiently processing various activities. RAM should be quick enough to allow you to view real-time market fluctuations. Day trading pcs are almost identical to gaming PCs. It's also essential for streamlining all procedures without causing delays, and it'll want at least 8GB of RAM. The recommendation is to upgrade to 16 GB of RAM, ensuring that you have sufficient RAM accessible when using the trading program. A day trading computer's RAM is critical to its operation; insufficient RAM can turn a computer inoperable, making it shut down at random.
Hard Drive:
When it comes to day trading, hard drives utilize SSDs instead of hard disc drives because they are quicker and more efficient. When you compare an SSD with an HDD, you'll see it's three times faster. As a result, using an SSD to get the most out of your trading computer's speed is suggested. Even though the storage components of both HDDs and SSDs are identical, the latter saves you time if your day trading machine abruptly shuts down. You can buy and sell stocks much more quickly if you use an SSD hard disc as part of your trading computer configuration. Your day trading machine will operate far better with the SSD, as seen by the quick boot-up speed.
Graphics card:
Let's bust the idea that graphics cards are just for gamers and content makers. This isn't wholly accurate. A decent day trading PC also requires strong graphics cards. There's a chance you'll be using numerous displays at the same time for your day trading. As time passes, you'll find that you'll need additional displays to keep track of many stocks at once. The recommended RAM for a graphics card is 2GB or more. The number of displays in your day trading computer setup is directly proportional to the number of graphics cards. Graphic cards for trading computers, on the other hand, must have at least 2GB of GPU.
Here is our selection of the best trading computers in India. When determining which alternatives to include on this list, we looked at RAM, CPU speeds, and other factors. For traders with an at-home trading center, we've compiled a list of the finest desktop trading PCs:
6 Display Trading Setup (Intel) - https://voltedpc.in/6-display-trading-setup-intel-
3 Display Trading Setup (Intel) - https://voltedpc.in/3-display-trading-setup-intel-
1 Display Trading Setup (AMD) - https://voltedpc.in/1-display-trading-setup-amd-
1 Display Trading Setup (Intel) - https://voltedpc.in/1-display-trading-setup-intel-
3 Display Trading Setup (AMD)- https://voltedpc.in/3-display-trading-setup-amd-
Posted
1 year ago
---
by Hunny
Comments
No comments yet! Why don't you be the first?