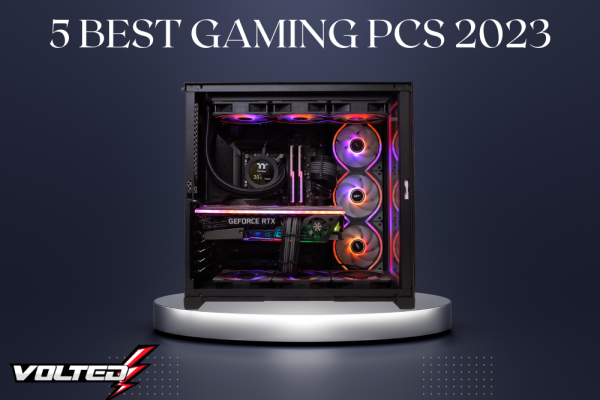 5 Best Gaming PC's in India Can Buy Online | 2023
A gaming PC is a particular type of computer. It is designed for gaming and entertainment purposes.
The main difference between custom gaming PC and standard PCs is the graphics card, processor, RAM and other things. The price also varies according to these features.
Here are some of the best Gaming PCs in India that you can buy online:
The Console Shredder Intel ( i5 10400 ) Gaming PC is a powerful gaming machine that runs on Windows 10 Pro. The 8GB RAM has been overclocked to 2933MHz to give you maximum performance in your games.
The graphics card is the NVIDIA GeForce GTX 1650 4GB GDDR5 video card. This gaming PC comes with a 250GB NVMe M.2 Kingston A-2000 SSD, which gives you lightning-fast system boot and application loading times.
You can store all your games, documents, photos and videos on the 1TB WD Blue/Seagate Barracuda 7200RPM hard drive, which offers high storage space.
You can connect your external storage devices using the two USB ports on the front panel or through one of the two USB 3.1 Gen1 Type-A ports at the back panel of this computer case.
The Gaming Fury is perfect for playing your favourite games at high frame rates.
In addition to a 6-core AMD Ryzen 5 3600 processor, 16GB of DDR3 RAM and an NVMe SSD storage solution, you'll also have RGB lighting and space to add more drives or perhaps even a water cooler.
The V250 mid-tower case will accommodate plenty of airflows and additional cooling if needed.
Windows Pro is included to allow you to use any software of your choosing while we install drivers, updates, and more before shipping it out free of charge.
The beloved beast is our best machine, featuring the AMD Ryzen 7 3800X that can be overclocked up to 5GHz, 32GB of 3000MHz Adata XPG 60G memory.
It has a Deepcool Castle 240 EX A-RGB cooler with RGB fans, 500GB NVMe M.2280 Kingston NV1 for even faster SSDs and Seagate Barracuda 7200RPM hard drives for plenty of space.
This Ferrous is an optimal build for power users and gamers alike. Featuring an i9 11900K processor and 64GB of 3600Mhz RAM, this custom build pc is nearly unstoppable. Pumping out 1TB of lightning-fast SSD storage, this PC will ensure that the snappiest response times are achieved on any DirectX 12 game or application.
It is for video editing and very simple gaming. Sigma class 1 customer-friendly order includes everything a gamer needs to get started, including a copy of Windows 10 Pro OEM, an Intel i3 12100F / 8GB RAM / 250GB NVMe SSD / 1TB HDD and a Thermaltake J24 TG case.
We don't skimp on the hardware, either. The i3-12100f is a great entry-level processor that can handle everyday tasks and games; it also runs on thermal paste instead of an expensive liquid cooling unit, as some other companies do.
Why you need gaming best PC
The Benefits of a Gaming PC:
1. It Can Help You Play the Latest Games
If you want to play the latest games, then you need a gaming pc India. The latest games are often released for PC first and then for consoles. That's because the PC platform is more powerful than consoles so that it can handle the latest games better.
2. You Can Play at Higher Settings and Resolutions
You can also play at higher settings and resolutions with a gaming PC. That's because gaming PCs are more powerful than consoles and can handle higher settings. So, if you want to enjoy the latest games at the highest settings and resolutions, then you need a gaming PC.
3. You Can Enjoy Other Benefits
In addition to playing the latest games at the highest settings and resolutions, a gaming PC can also provide you with other benefits. For example, you can use a gaming PC to watch movies and TV shows in 4K, stream your favourite games, and more.
4. It's a Good Investment
A gaming PC is also a good investment. That's because it can last for years if you take care of it. Plus, if you ever decide to sell it, you can get a good price for it since it will still be powerful.
5. It's Easy to Upgrade
If you want to upgrade your gaming PC, it's easy to do. You can add new components, such as a new graphics card or a faster processor. Plus, you can also upgrade your storage, memory, and more.
Types of games you play
There are all sorts of different types of games you can play on a gaming PC. Some are designed for single-player experiences, while others are better for multiplayer fun. Some games are meant to be relaxing, while others are adrenaline-pumping thrillers. No matter your taste in games, there's sure to be something out there for you on the PC.
Plenty of great options are still available for those who like a more traditional gaming experience. Platformers, for example, are a classic genre that has seen a resurgence in recent years. Games like Super Meat Boy and Celeste are perfect for anyone looking for a challenge. If you're looking for something a little more relaxed, there are also plenty of great exploration-based games to choose from, like Stardew Valley or Minecraft.
For those who prefer a more action-packed gaming experience, plenty of great options are available on the PC. First-person shooters like Overwatch and Counter-Strike: Global Offensive are always popular, and there are also plenty of great racing games to choose from, like Forza Horizon 4 and Project CARS 2.
No matter your game taste, there's sure to be something out there for you on the PC. So what are you waiting for? Get gaming!
Final words
It's not something we typically think about, but today's games can take a lot out of your computer. If you want to experience the best graphics and speeds, buy the best PC for gaming! We also have many other helpful articles; check them out! Buy pc online today!
Posted
11 months ago
---
by Hunny
Comments
No comments yet! Why don't you be the first?